What Other Technology Has Stayed the Same for 50 Years?!
The Leybold Vacuum Academy presents:
Webinar: The Future of Food: Processing & Packaging Advancements With Dry Vacuum
When: On-Demand - Any time!
Complete the form to the right to be taken to your on-demand viewing page.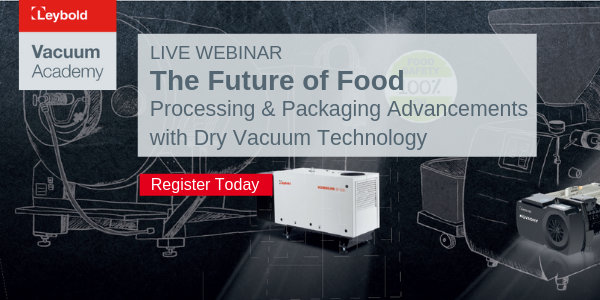 Summary:
Don't accept the status quo!
Downtime Happens – Don't let your vacuum pump be the reason. Equipment advancements and innovation can improve uptime and increase production with minimal investment.

In this webinar you will learn:
• Frequent concerns your peers have shared about the current state of their packaging and processing processes
• The risks of maintaining the status quo in your vacuum system and the impact to your production costs
• Energy trends and how vacuum technology impacts your usage
• Advancements in vacuum technology and how you can reap the benefits